Chalksteam Trout Thanksgiving Stuffing Recipe
Free shipping in California
How to Make a Pescatarian Stuffing!
Instead of using sticks of butter to resuscitate a boxed Thanksgiving stuffing recipe, let's make it something extra special this year, so delicious and, dare I say, good for you!
Chef Mike Tully was the CDC at Gjelina for over 6 years where he really mastered the art of rustic gourmet. And that's not just our opinion. During his time on the line, everyone from Beyonce to Jonathan Gold and the James Beard association was raving about Gjelina. So when Chef Mike suggested we use Chalkstream Trout to R&D a Thanksgiving Stuffing recipe that would get his grandparents to eat more omegas, we couldn't refuse!



Chalkstream Trout are loaded with natural healthy fats. The omega levels are off the charts. Pairing the earthy flavor of these award-winning trout fillets with fresh herbs, root vegetables, and lemon zest, we have a side dish that's ready to compete with any main dish.

We've all had dry, boring Thanksgiving stuffing that's only excusable as a tradition if swimming in gravy. There are people who insist on keeping this "tradition" alive. OK, well for the sake of togetherness, try this instead!

The omega-rich fats from the fish really make this recipe!

- Chef Mike Tully (Gjelina)
Stale Bread (75 g)

ChalkStream Trout (1 pc)

Leek (50 g)

Fennel (50 g)

Shallot (15 g)

Tarragon (1 tsp)

Dill (1 Tbsp)

Thyme (1 tsp)

Parsley (2 Tbsp)

Chive (1 Tbsp)

Vegetable Stock (1/2 Cup)

Egg (1 ea)

Creme Fraiche (1 Tbsp)

Salt (1 tsp)

Pepper (1 tsp)

Lemon Zest (1 tsp)

Serving Size: 3-4

Cook Time: 25 min

Prep Time: 10 min

Pro-Tip: Throughly dry the protein before cooking!

Bread stuffing: Tear bread into bite-sized pieces and bake 250 degrees F for 20 minutes until dry. Or tear/chop 2 day old bread into bite-sized pieces. After oven, put aside in medium bowl. Turn oven to 400 degrees F for baking.



Crispy Skin Trout: Place sauté pan on high heat and season trout, belly first then flip and season skin. When pan is very hot, thoroughly pat dry the skin with a paper towel, and season with salt. Do not let the dry, seasoned fish sit for more than 30 seconds or the salt will begin to pull unwanted moisture to the surface. Immediately place the dried skin side down on your hot pan.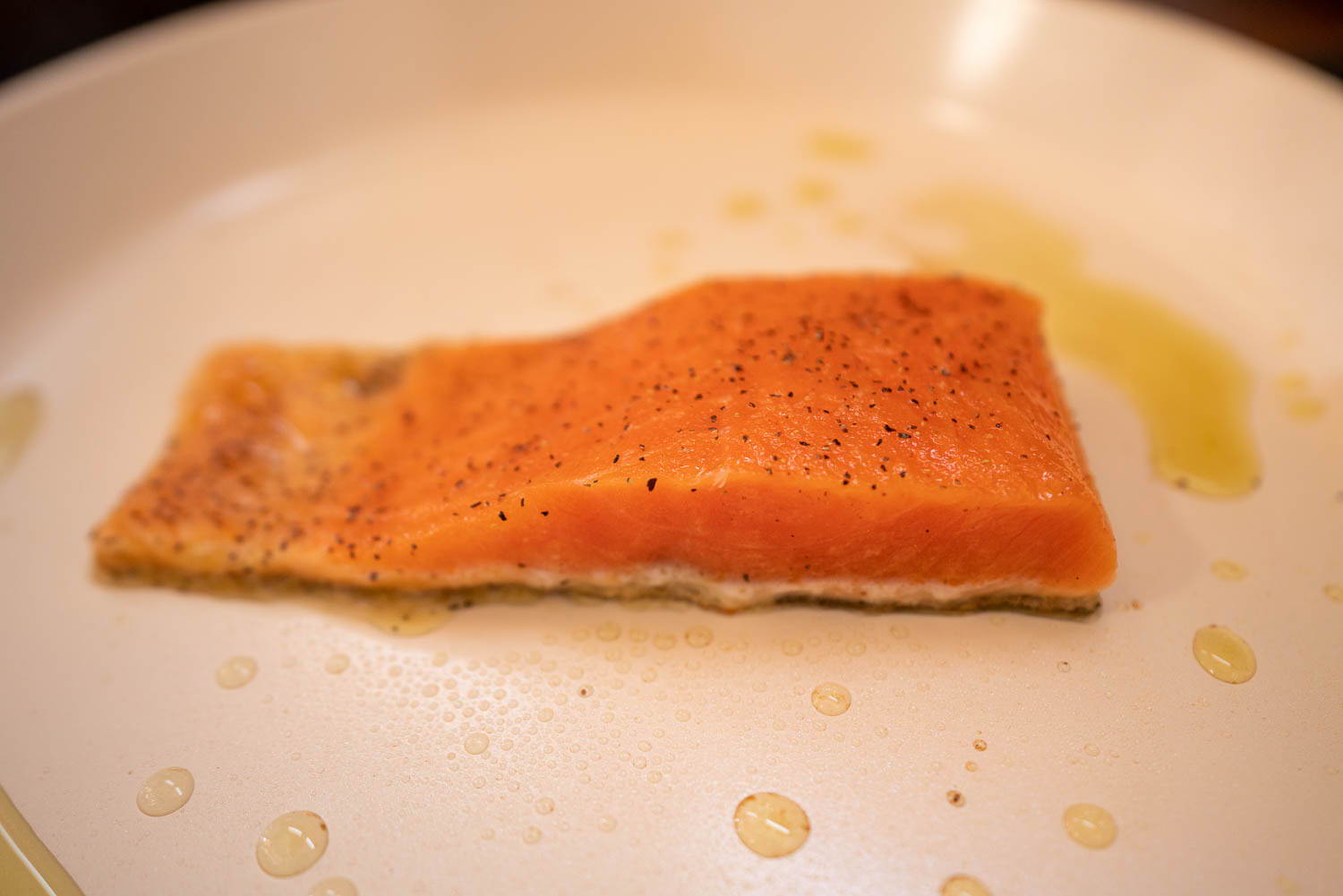 Cook for 5-6 minutes until skin is crispy but the fish is still rare. Remove from pan and set aside to cool.

While fish is searing, slice fennel, leek, and shallot very thin. Set aside.

As the fish is sushi-grade, please don't over cook it!
After trout is removed from pan, place fennel, leek, and shallot in pan and sauté until lightly browned but not burnt. Turn off burner.

Pick tarragon, dill, thyme, and parsley off their stems and roughly chop them. Toss into warm pan with fennel, leek, and shallot and toss.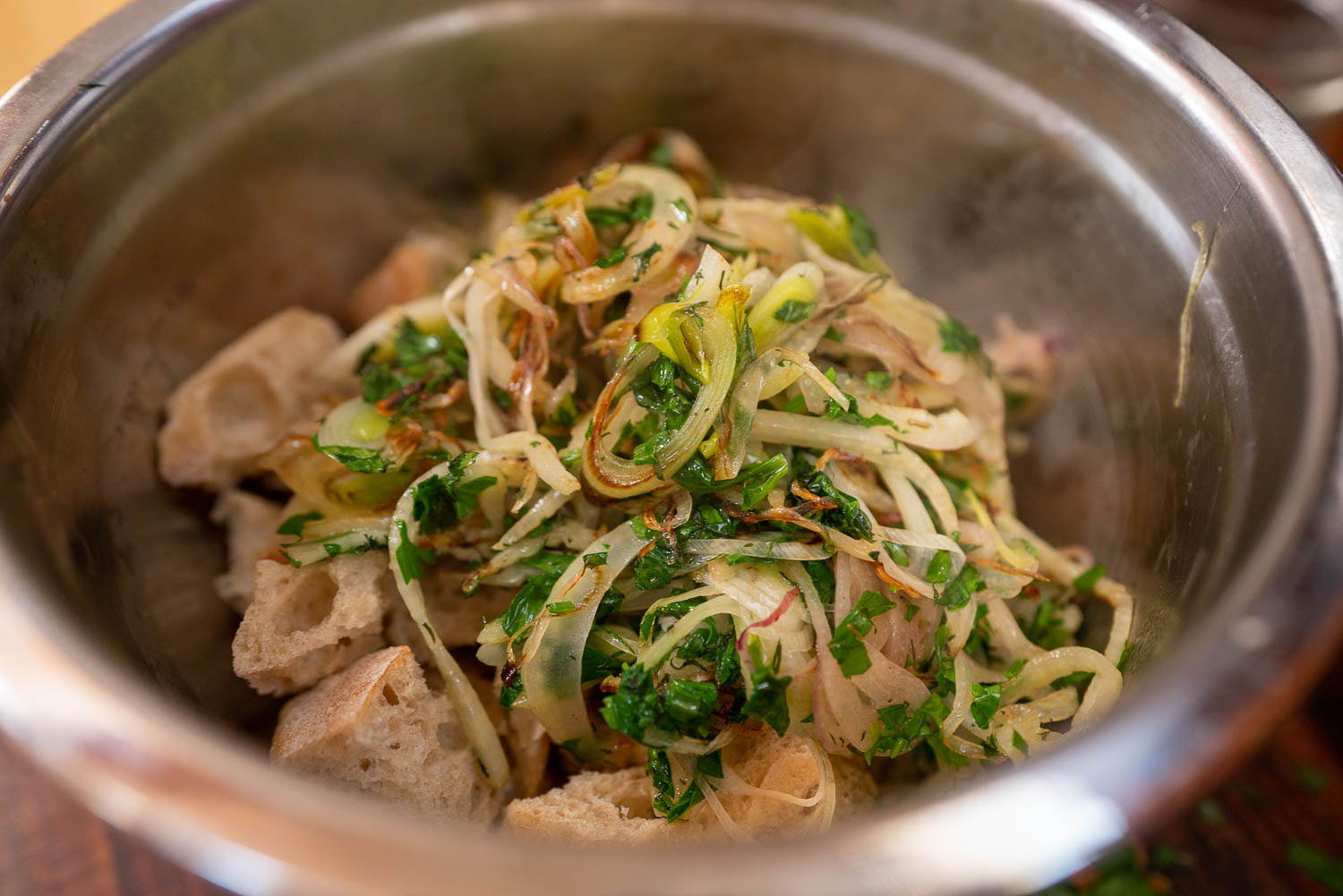 Pour vegetable and herb mixture over dried bread. In separate bowl or jar, whisk stock, egg, and creme fraiche. Pour over herb and vegetable mixture.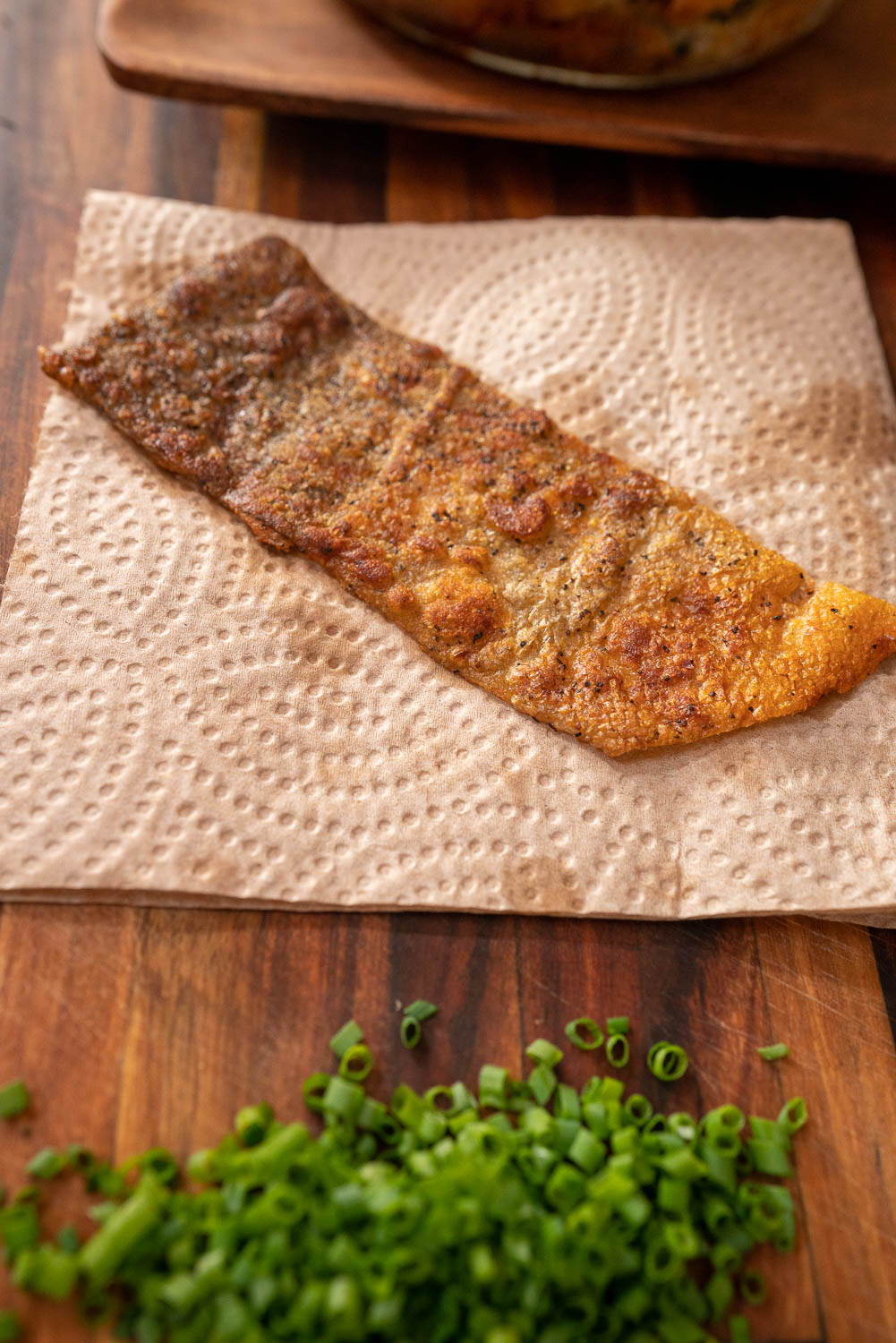 Now that the fish has rested, gently remove crisped skin from trout and set aside on a paper towel or wire rack to preserve crispness.

Flake trout flesh into mixture in flakes or bite sized pieces.

Bake in oven at 400 degrees F uncovered for 15 minutes until liquid is gone and top is crispy.

After 15 minutes, place skin face down on stuffing for 5 minutes to crisp remaining skin.

Take stuffing out of oven and set skin on paper towel to cool.

When skin crisps, break or chop into bite-sized pieces and place atop stuffing.

Chop 1/4 bunch of chives and place on top, along with 1/2 lemon zest and a drizzle of olive oil.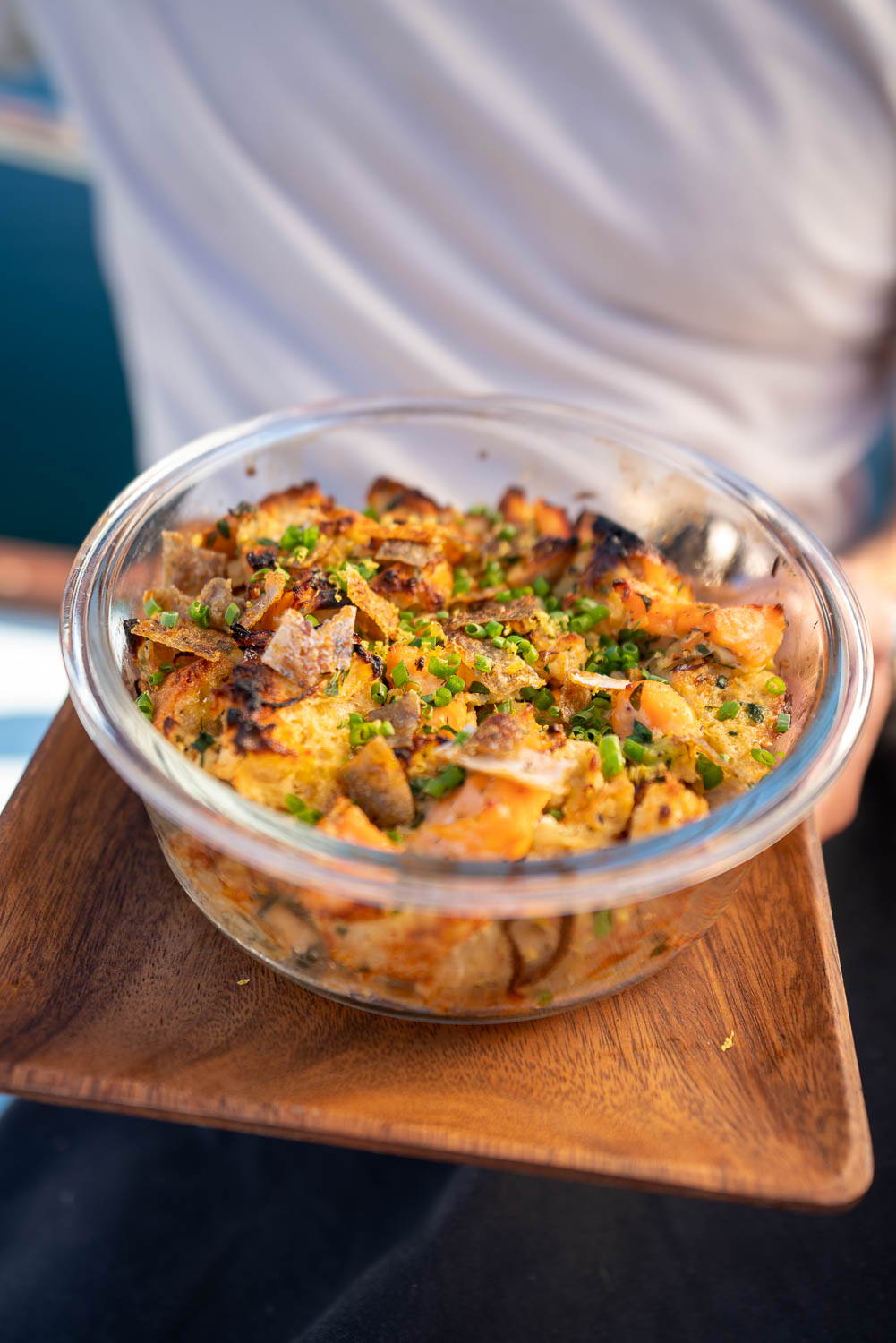 ---
Sign up to hear about new pescatarian recipes and exclusive farm tours!