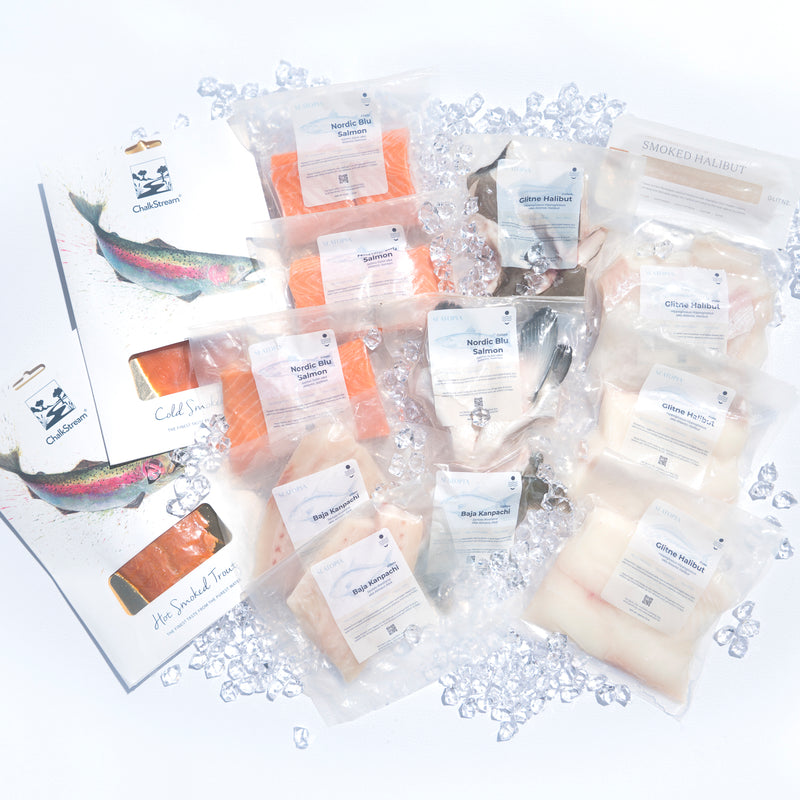 Best Value 24 Serving Box
Our most popular and best value, the 24 serving Full Moon Seatopia box works out to less than $11 per serving when you subscribe (and save 15%!).  Curated for a health-conscious family to enjoy the benefits of eating 2 servings of clean ocean-friendly seafood per week.  Twenty-four servings of delicious, vital, and empowering seafood meticulously sourced directly from the world's leading smart aquaculture projects:  
Every month will vary depending on seasonal availability.
Sample Curation
Ōra King Salmon (4 servings of sashimi-grade skin-on 8oz Ora King Salmon fillets and 2 each 4oz servings of Cold Smoked Ora King Lox):  Ōra King has achieved a Green/Best Choice rating from the Monterey Bay Aquarium's Seafood Watch, and is regarded among chefs as the Wagyu Beef of the seafood world. 
Skjerstad Fjord "NordicBlu" Salmon (6 Servings: 4 servings of fillets, 2 servings of collars):  The world's first and only marine net-pen farmed Atlantic salmon rated "Green — Best Choice" by the Monterey Bay Aquarium Seafood Watch®.
Regal Salmon: (6 Servings) The New Zealand Salmon Company's best kept secret!  These delicious and sustainable filets are just as good as Ora King but cook differently, some say better for crispy skin presentations. 
Clean Seas Hiramasa (6 Servings: 4 servings of fillets, 1 serving of collars):  Chef's favorite, CleanSeas Australian Hiramasa from Spencer Gulf in the Southern Ocean.
Australis Barramundi: (6 Servings) Fair Trade Certified Vietnamese Barramundi are perfect for crispy skin preparations with a mild sweet buttery taste that cooks like halibut, grouper or seabass, Barramundi has a delicate skin that crisps up nicely while retaining flavor and moisture.
*Optional: Aquapesca Scallop (1 serving of scallops on the half shell): Award-winning scallops raised from seed in mid-water hanging lantern scallop baskets from Guaynuma Bay, Peru.
* Optional:  EU Organic Costa Rican Shrimp  (4 serving of Costa Rican EC certified Organic Shrimp shell-off deveined tail on): Award-winning shrimp raised in beautiful Costa Rica certified organic per the European Union organic standards.
These are the same fish and amazing quality as previously featured on the menus at California's best farm-to-table restaurants delivered directly to your door.  

Every perfectly cut 4- 6oz fillet comes blast-frozen at peak freshness using super freezing technology to ensure quality, safety, texture, color, and flavor are preserved in that same manner as the best sushi-grade fish available. If kept in a stable deep chest freezer, SEATOPIA seafood will be good for 3 months. 
Note:  You can expect a rotating curation of fillets, collars, poke cubes, and smoked products every month based on the changing seasons and your feedback.