The Best Fish Burger Ever! NordicBlu Salmon Burger Recipe
Recipe by Chef Kelsey (aka @Colorful.palate)
Cast Iron Smashed NordicBlu Salmon Burger
Instragram Chef and food photographer extrodinair Chef Kelsey perfected this summer classic using Seatopia's NordicBlu Salmon Burgers

Fish Burgers Should Not Taste "Fishy"

Unlike store bought fish burgers that are often processed from old, unsold, previously frozen fillets and taste "fishy" until you cover them with sauces and hide the fish.... These NordicBlu Salmon burgers are made with some of the best, fattiest salmon on the planet, and ground into burger meat while at peak freshness, then super frozen and vacuum sealed to lock in flavor and nutrients.

"In this recipe, we prepare the NordicBlu salmon burgers by simply pan frying it medium rare, and lightly dressing to preserve its texture and flavor."

Omega-Rich Salmon Burgers

Not over-cooking fish is important if you want the benefits of the natural Omega-3 fatty acids. As we're comfortable with the quality and safety of consuming rare cooked Seatopia products, cooking for an internal temperature of 115 degree F is plenty for our taste and textural preference.  

"Starting with NordicBlu Salmon at peak freshness makes all the difference!"

Smash burgers are made by using the process of placing a round ball of ground beef on a hot cast iron cooking surface and smashing it with a spatula to yield a thin meat patty. The result is a juicy thin burger with a nicely seared exterior.

When a burger patty hits a hot cooking surface, a chemical reaction called the Maillard reaction takes place. The Maillard reaction creates a crispy crust as well as dozens of complex flavor compounds. Those flavor compounds are what make a smashed burger so delicious.  

As our salmon patties are mostly flat, we just focus on using a hot cast iron as apposed to a grill and smash them a bit flatter while cooking. The avocado oil combined with the natural fats of the salmon will fry/sear the outside edges of the patty for that delicious smashed burger texture.

MAKES 2 SERVINGS

Avocado oil (for cast-iron pan)

2 NordicBlu Salmon Burgers
Kosher salt
2 potato rolls, toasted
Tomatoes, mayonnaise, leafy lettuce, and avocado (for serving)

Preparation
Step 1
Heat a cast-iron griddle or large heavy skillet over medium-high until very hot, about 2 minutes, then lightly brush with oil.

Step 2
Season liberally with salt and cook, undisturbed, until outer edges are brown, about 3-4 minutes. Flip patties, season with salt, and place a slice of avocado on top of each patty. Cook until burgers are medium-rare, about 2-3 minutes.

Step 3
Serve patties on rolls with thinly sliced tomato, avocado, mayonnaise, and lettuce.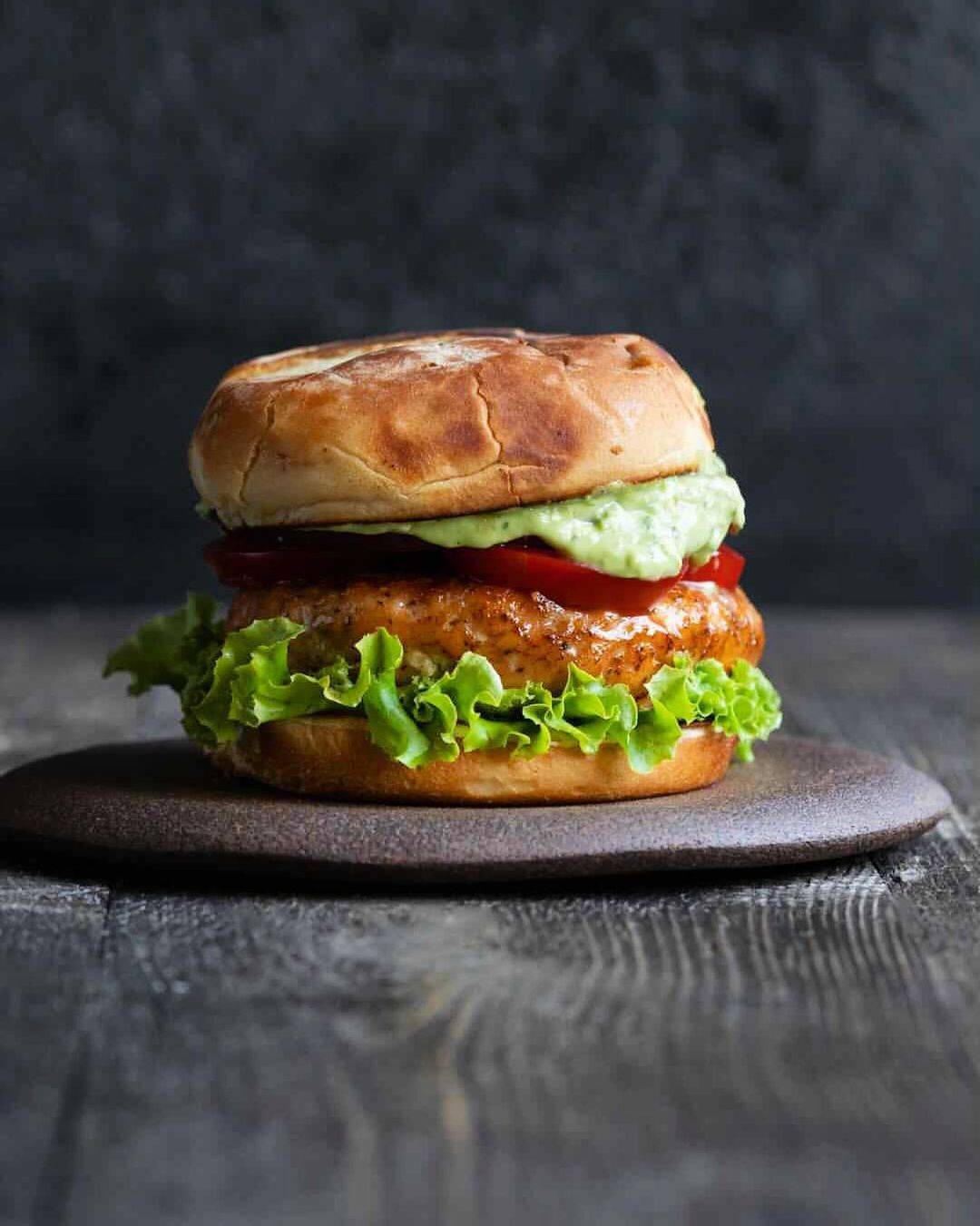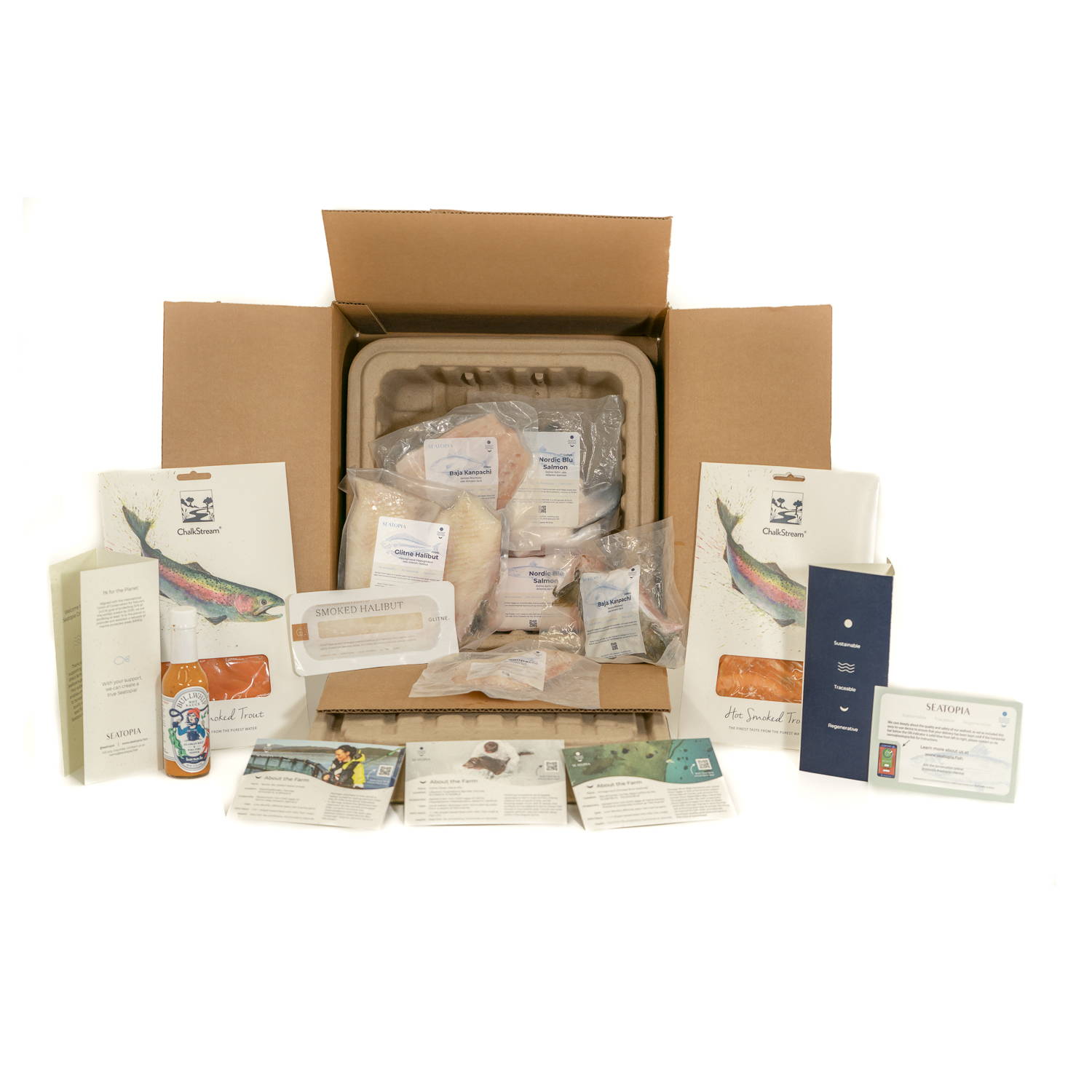 Written by
an anonymous user
on
Customer Reviews
based on reviews
There are no customer reviews yet.
Thank you for submitting your review. Once it is approved, your review will show up in the list of reviews.
Submitting your review failed. Please try again.
Ready to make this and other restaurant quality recipes at home?  
Order our 24 Serving SEATOPIA box as a Monthly Subscription to receive an additional 15% off and you'll be enjoying sushi-grade seafood every full moon from the comfort of home for less than $10 per serving. Everything is super frozen at peak freshness using sashimi-grade seafood vacuum-sealed in freezer safe compostable bags and ships in a completely compostable insulated box with dry ice and gel packs.  
Michelin Star Chef quality endorsed seafood at home with 100% traceable, sustainable and COA tested mercury-safe seafood.
---
Sign up to hear about new pescatarian recipes and exclusive farm tours!