"Since bringing high-vibes omega-rich seafood back into my diet, I feel my body thriving again! "
Kassia Meador Interview on Giving Thanks for Nourishment from the Oceans
By James Arthur with special guest Kassia Meador
Surfing with Kassia over the years, I've had the pleasure of watching her journey from sponsored icon for Roxy at the peak of their influence, to self-made entrepreneur fully committed to building a more environmentally-conscious brand of her own. Always passionate about health and sustainability, she expressed profound interest and knowledge of the issues related to my own projects in seafood.  

At the time, we were supplying some of her favorite farm-to-table restaurants and we had the opportunity to share some exceptional meals prepared by renowned chefs like Travis Lett (Gjelina, Gjusta, and MTN). As Covid set in and our restaurant clients shut down, the silver living for us was reconnecting with health-conscious individuals seeking farm-to-doorstep connection to their food with transparency, sustainability, and health as key drivers.

Below are some of the series of conversations we had after collaborating with Kassia and Leah Dawson's San Onofre Surf Retreats.

"You shouldn't have to choose between what works and what's good for the oceans."
Kassia: "Having had multiple severe concussions over the years, optimizing my neurological functions and stripping the resultant plaque from my brain has been a major focus of my health in recent years. My journey of healing brought me deep into wave energy healing with sound vibration, acupuncture, polarity movement, and the potent qualities of food as medicine."

Kassia: "Since midsummer, I've been enjoying high-vibe, mermaid friendly seafood from SEATOPIA at home and most recently at Leah Dawson and my San Onofre surf and wellness retreats. Feeling better than ever, I was so stoked to share the work you guys are doing for the health of the oceans and our bodies."

Certified Mercury Safe < 0.0 PPM Mercury
"Strawberries, chickens, cattle, oysters, or fish... not all farms are beautiful, sustainable places, let alone regenerative. Only working with artisan farms raising natural seafood from the eggs of non-GMO native species, SEATOPIA's vetted farm partners are raising beautiful fish in ultra low-density clean water environments and feeding them sustainable algae-based feeds, free of antibiotics or hormones."

"Harvested and handled in the most humane ways possible, SEATOPIA is elevating our relationship with the oceans, mitigating pressure on wild stocks, and ensuring what we eat is clean, mercury safe, and nutrient rich."  

-- James Arthur

Kassia: "After years as a pescatarian, concerned about bioaccumulation of microplastics, heavy metals like mercury, and overfishing in general, I stopped eating fish for a while. So long in fact, that reading the results of my blood tests, doctors noted that I was below optimal levels of Omega-3 fatty acids, in particular EPA and DHA. Researching clean, sustainable options, I was stoked to learn that SEATOPIA not only hit all the key sustainability points working exclusively with a small collective of artisan regenerative ocean farms, they also lab test their seafood with certificate of analysis results quantifying less than 0.0 PPM of mercury! Since bringing sushi-grade seafood and omega-3's back into my diet, I feel like my body is thriving again! "  

Not All Farms Are Created Equal
"This is the best fish I've ever had - anywhere in the world."

Kassia Meador: "Seafood's magic ingredient are the Omega-3 fatty acids, in particular the readily bioavailable EPA and DHA (which are found exclusive to seafood)."

James Arthur: "Yes! And fatty fish are loaded with these beneficial fats. Just be careful with overcooking; pan-frying and deep-frying at high temperatures can destroy omega-3 fats (which is why we put so much energy into super-freezing to preserve the sushi-grade qualities)."

Kassia: "That's the best! Plus with algae-based diets resulting in negligible mercury, SEATOPIA allows us to enjoy seafood's health benefits without complications associated with bioaccumulated heavy metals."

James Arthur: "That's right, we use third party labs to verify SEATOPIA's products with Certificate of Analysis on our seafood which quantifies less than 0.0 PPM of mercury for example. No one else is doing this."



Read More: Health Benefits of Seafood
"Additionally, all fish supply high amounts of protein, have low levels of saturated fat and contain vitamin E, an important antioxidant. Fish is a natural source of B-complex vitamins, vitamin D and vitamin A (especially oily fish). B-complex vitamins have been associated with healthy development of the nervous system. Vitamin A is needed for healthy vision as well as for healthy skin, while vitamin D is essential in bone development. Fish is also a good source of minerals such as selenium, zinc, iodine and iron. Selenium is a potent antioxidant that protects against cell damage. Zinc is needed for cell growth and immune system health. And Iodine helps maintain thyroid gland function, while iron is important in red blood cell production."

"Seafood's magic ingredient are the Omega-3 fatty acids, in particular the readily bioavailable EPA and DHA
Plastic Free. Styrofoam Free. Compostable.
Kassia: "With so much plastic and styrofoam used to ship things these days, it's extra rad to know that all of SEATOPIA's packaging, from the insulated box to the "ecoplastic" bags that the fish comes in (made from coffee grounds!), are all compostable. If you guys can do it with highly perishable goods like seafood, everyone should!"

James Arthur: "Thanks for that Kass! It took a long time for us to find a solution we could condone as truly sustainable. There's so much greenwashing out there. We just wanted to have integrity in our commitment to a truly sustainable supply chain. I know you guys have done the same with Kassia Surf wetsuits and apparel. It all adds up!"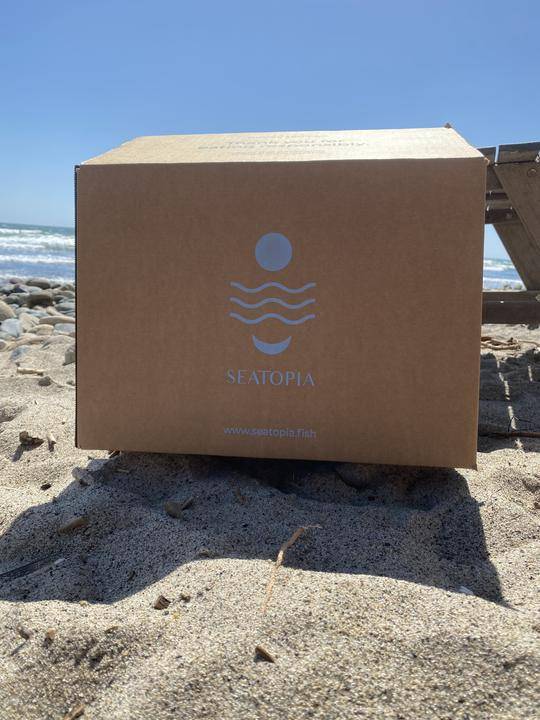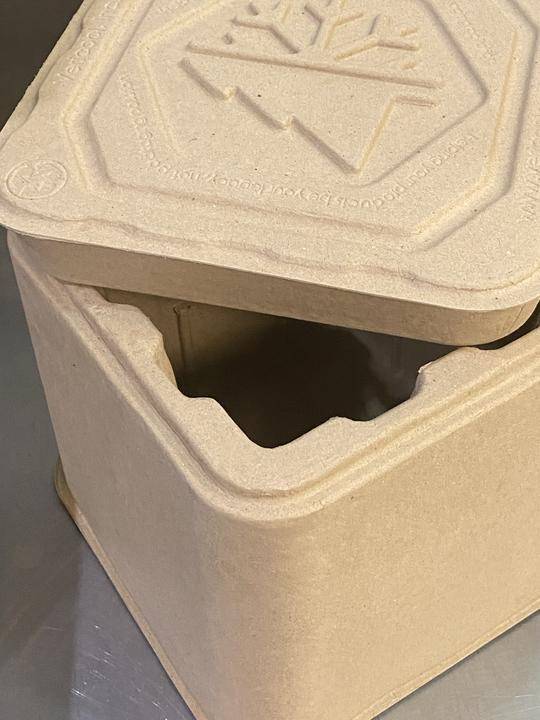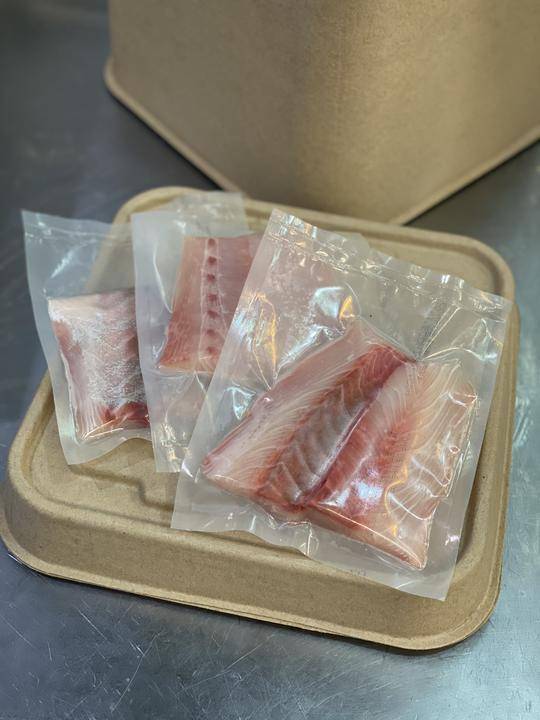 Virgin-free 100% post-consumer recycled cardboard using soy-inks
Multi-use 100% compostable insulated thermal shipping cooler
100% compostable vacuum-sealed freezer bags
Get the inside line on private farm tours, special offers, seafood recipes, and updates from the SEATOPIA Collective.
GIVING BACK: Marine Protected Areas
Kassia: "You guys also keyed me into the story of these MPAs that you're supporting with 1% of all SEATOPIA sales which is so rad. I feel like you should tell that story again!"

James Arthur: "MPAs or Marine Protected Areas, like Cabo Pulmo, is on the east cape of Baja and are kind of the backbone of ocean conservation. SEATOPIA is dedicating 1% of all sales towards helping promote, manage, and establish new MPAs in line with the IUCN's ("International Union for Conservation of Nature") efforts to create global networks of well managed MPAs around the world. The goal is to protect at least 30% of the world's oceans by the year 2030 (#30x30). It's our passion and part of SEATOPIA's mission to ensure these ecosystems are protected and help to create more well managed MPAs. Every subscription to the Seatopia Collective supports these projects, and in turn, helps advance ocean conservation for generations to come."

Kassia: "We've been on the subscription program to receive a new SEATOPIA box on the Full Moon (you guys only deliver twice per month, on the Full and or New Moon). The 24 portion box, works out to less than $10 per serving! I'm just stoked to support and share what you guys are doing! Thank you for connecting us with this ocean goodness!"  

James Arthur: "So honored and grateful for your support Kassia!"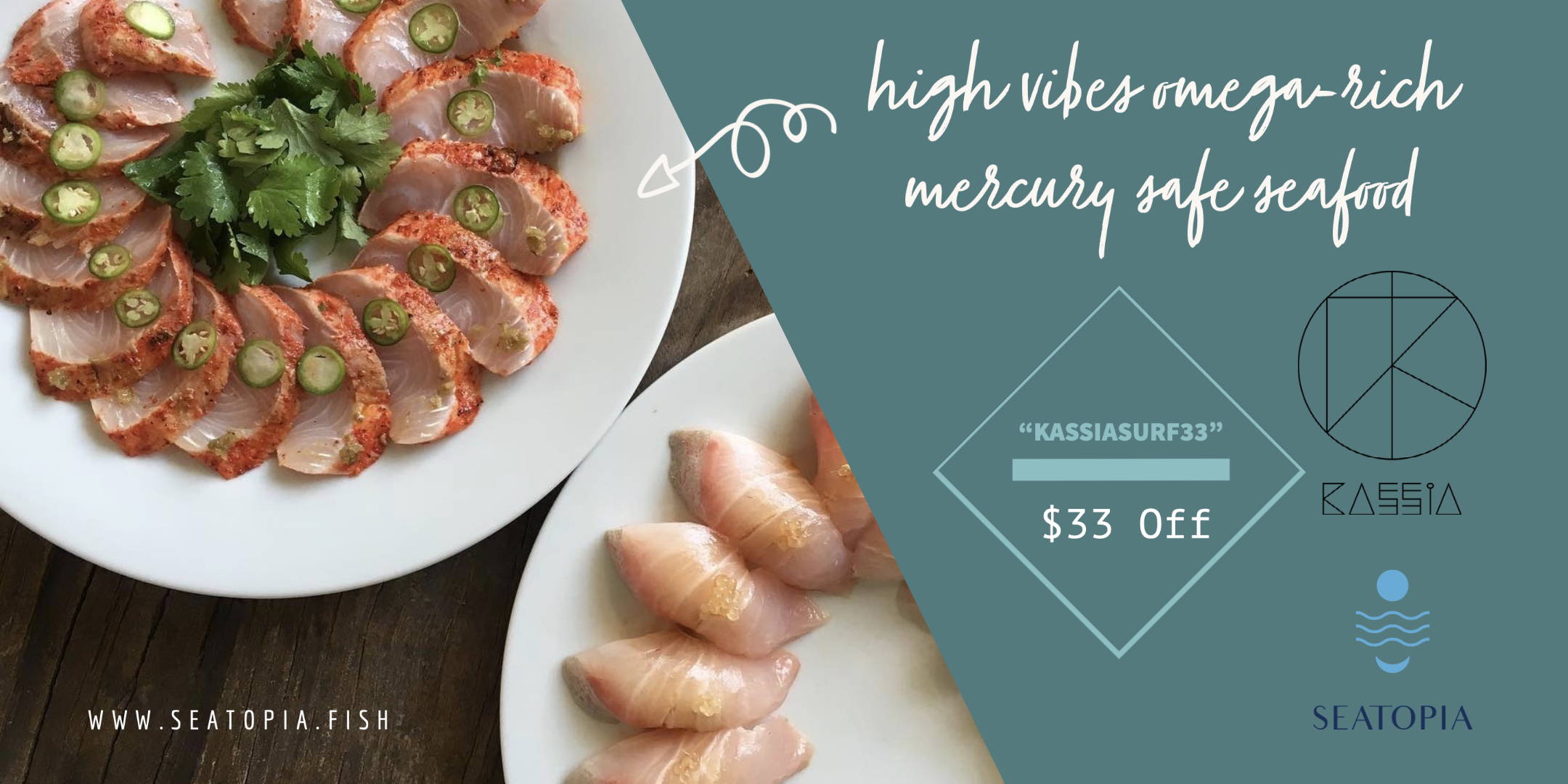 Subscribe and Save: 24 Portions for less than $10 per serving!

Get the inside line on private farm tours, special offers, seafood recipes, and updates from the SEATOPIA Collective.